If you want to book one of our hotels at the special Interaction12 rate, most of them require you to use our online registration form (the same one used to register!), and pay your first night as a deposit (this is non-refundable if you cancel your booking). If you have already registered, but would like to add accommodations to your registration, you can use our registration management system to do so. You'll need your registration Access Key – included in your confirmation email – to use the system.
If you need any help booking accommodations, or if you are looking for a room or hotel that is not listed on our site, feel free to contact Abbey Conference at: register@interaction.ixda.org or by phone: +353 1 648 6130. They will be more than happy to assist.
If you would prefer to contact the hotels directly for your booking, both the Clarion and the Maldron offer that option. Otherwise, we recommend contacting Abbey Conference.
All rates are inclusive of service charge and VAT, and include a full Irish breakfast. Checkin is 3:00pm and checkout is 12:00pm midday.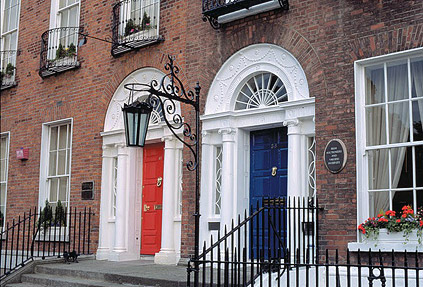 4-Star Hotels
Morrison Hotel (Official Interaction12 hotel)
The Morrison is one of the most luxurious and visually-stunning hotels in Ireland. Its architects have incorporated an 18th century facade of a Georgian townhouse alongside a thoroughly modern south-facing front over looking the River Liffey. The hotel offers 138 guestrooms, a fitness centre, restaurant and bar. Located on Ormond Quay, it is 10 minutes walk from O'Connell and Grafton streets and within easy walking distance to many of Dublin's attractions.
Distance to conference venue: 15 minutes walk
Rates per night: €145 Single, €160 Twin/Double (January 30th through February 3rd, inclusive)
Rates per night: €175 Single, €190 Twin/Double (February 4th & 5th)

The Clarion Hotel IFSC
Overlooking the River Liffey the Clarion IFSC hotel is very centrally located in the capital's International Financial Services Centre. A modern hotel, it has 180 bedrooms, restaurant, bar and a lounge serving snacks throughout the day. Guests have access to the leisure centre and spa facilities which include an 18m swimming pool, a gym and treatment rooms. The Clarion is within easy reach of all Dublin city attractions, with O'Connell Street and Temple Bar both a ten-minute walk away.
Distance to conference venue: 2 minutes walk
Rates per night: €145 Single, €155 Twin/Double
Book Now! (Use code: IXDA2012)
Telephone:

+353 1 433 8800

Maldron Hotel Cardiff Lane
The Maldron Hotel Cardiff Lane offers 304 spacious contemporary guestrooms (including 35 executive rooms), a popular restaurant and a trendy bar. Guests have full access to the Club Vitae Health & Fitness Club which has a 22m swimming pool, sauna, jacuzzi, steam room and gym. Overlooking the Grand Canal Theatre, and within walking distance of the O2 Dublin, the hotel is also ideally placed opposite the new Dublin Convention Centre and is within walking distance of the city centre.
Distance to conference venue: 2 minutes walk
Rates per night: €135 Single, €145 Twin/Double
Book Now! (Use code: IXDA2012)
Telephone:

+353 1 643 9500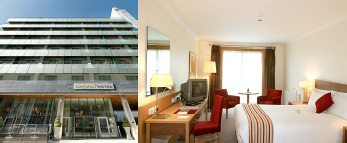 3-Star Hotels
O'Callaghan Mont Clare
The Mont Clare Hotel is a superior 3-star Georgian building with 74 bedrooms, plus a restaurant and bar. The bedrooms were refurbished in 2004 and are fully air-conditioned. Located in the heart of Georgian Dublin at Merrion Square and next to Trinity College, it is also 200 meters from Grafton Street and close to the National Art Gallery.
Distance to conference venue: 10 minutes walk
Rates per night: €80 Single, €95 Twin/Double

Sold out

The Trinity Capital Hotel
The Trinity Capital Hotel is modern hotel opened in May 2000. The hotel features 82 bedrooms, each designed with an art deco influence. There is a wine and coffee bar in the lobby as well a restaurant, a bar and night-club. Located in Dublin City Centre it is a 5-minute walk to Grafton St and Temple Bar.
Distance to conference venue: 15 minutes walk
Rates per night: €109 Single, €119 Twin/Double

Sold out